ERCO Greenology®

for sustainable lighting
Light is ERCO's contribution to making society and architecture better and, at the same time, preserving the environment. Buckford and ERCO understand light as the fourth dimension of architecture – and thus as an integral part of sustainable building.
ERCO Greenology as a term combines ecological responsibility with technological expertise and is our strategy for sustainable lighting. Innovation, efficiency, effectiveness and sustainability are the four pillars of this strategy. ERCO's goal is the CO2 neutral production of lighting tools to make light as effective and therefore as sustainable as possible in application.
ERCO is a family business in its third generation. Thinking in the long term and sustainable behaviour are firmly anchored within their corporate culture and are part of their understanding of Environmental, Social and Corporate Governance
ERCO's Sustainability Goals
The most effective lighting tools on the market
ERCO develop luminaires and methods of lighting that are utterly effective. Light should only be used where it is needed – meaning not all over the place and thus wastefully throughout the complete room.
The effectiveness of a lighting installation considers the light in its application and is defined by the precision of the luminaires used. It is distinct from efficiency as an indicator of the pure energy conversion from electricity to light. The high efficiency of a luminaire alone, expressed in lumens per watt (lm/W), does not by itself make it an ideal tool for sustainable lighting concepts. ERCO considers both key phrases within product development: efficiency through the use of the best LEDs and in-house developed driver electronics for especially low energy consumption. Coupled with effectiveness from high-precision photometric systems also developed by us. The crucial factor here is the quantity of light reaching the surface to be illuminated for a given connected load – i.e. the ratio of illuminance to connected load in lux per watt (lx/W). To make an efficient luminaire into a luminaire that is effective in its application, precise, dedicated optical systems are needed that direct the light precisely onto the target surface without light spill. Only in this way is it possible to implement effective zonal lighting concepts that, in contrast to normal planar lighting, only use light where human perception requires it. The lighting technology of almost all our luminaires is based on the principle of projecting the light via lenses. This makes them up to 20% more effective than conventional luminaires with reflector technology.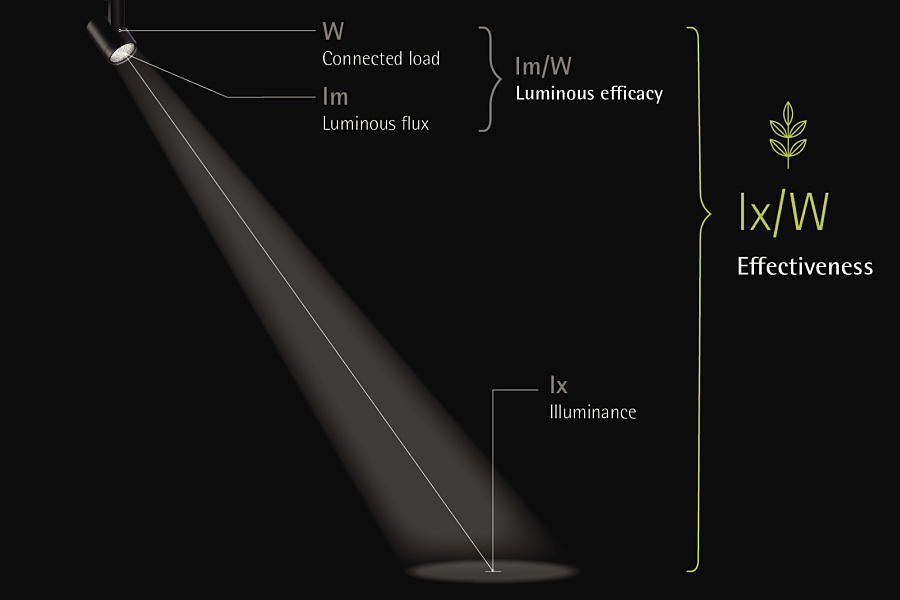 A CO2 neutral light factory
With the eco-design concept of our products and comprehensive energy and environmental management in production, we are transforming ourselves into a CO2 neutral light factory. The conscious and conserving use of resources, the expansion of new technologies and the continuous optimisation of our production processes lead to a steady reduction in our CO2 emissions and ultimately to CO2 neutral production.
Expansion of the circular economy
We comply with the principle of circular economy in the production of our luminaires. From responsible material procurement and disposal in accordance with the WEEE directive to the recyclability of our luminaires – we evaluate and enhance every production step according to ecological and economic aspects. This allows us to make our production more sustainable and CO2 neutral in the long run.
Yes to the UN Sustainable Development Goals
We are clearly committed to the 17 United Nations Sustainable Development Goals. Economic, ecological and social aspects are encompassed in these objectives to promote sustainable peace and prosperity and to protect our planet. With our responsible corporate actions we make a contribution on a global level.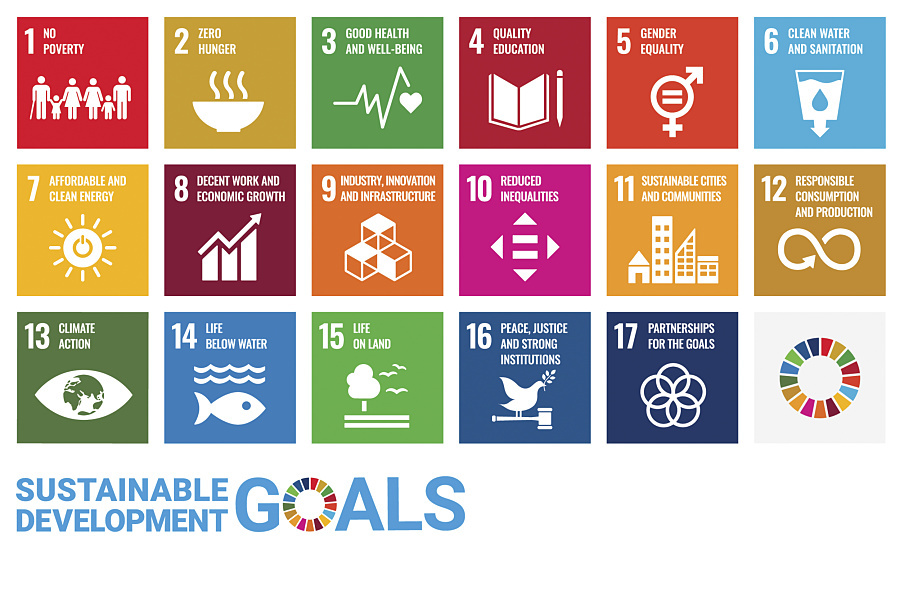 Learn more about ERCO Greenology here.